Do you have your Purim costume ready? Or do you have a tiny little baby who no longer fits into the costume you bought for Halloween, and no time/energy/desire to go out and get a new one.
Here are a few ideas I have for you...
1. Shepard and Sheep. Got anything furry/fuzzy in white for the little one? Some PJs or a fuzzy sweater. Even just a white onsie. Got a bit more time... make a sheep hat or shirt for the baby.
Just sew on some cotton balls...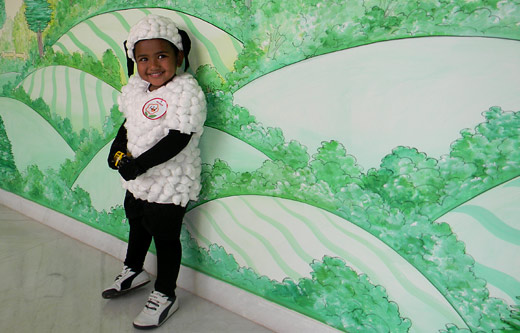 Yup- Wandering Mist made this while costume in about 3 hours. Now, since you have a baby, it won't be so bad. I'm serious though. Thrown on a long dress of any kind, one of those summer frocks you have. Then grab a white sheet or something in a contrasting color. Add a headband to your head around the sheet= shepard. Baby in white with a cotton ball hat- you are so done.
Also, I'm totally not judging if you run to target and buy an easter bunny outfit and cut off the ears. Seriously...
2. Heart on your sleeve. This one is even easier. Did you get some adorable heart onsie or PJ for Valentines day. Ocho got an adorable sleeper at Old Navy when I went to visit my Dad but forgot any PJ's for her. The one below is from KMart. Just hold her in your arms (on one side) and when people ask tell her she's your heart, on your sleeve. Yup, a total groaner, but it totally works!
3. Mac from The Neighbors. I know, total cop-out, but put the baby in an outward facing Bjorn, and wear a blue shirt- totally good to go. Grab some fake glasses for the effect (and totally put some gel in your hair!) It's a legit Seth Rogan film (which I don't think anyone saw) but if you own it, it's totally yours!